About
Dave's Dreaded Brewing
Brewing Beer since December 1995
Now Brewing in Burlington Kentucky
Head Brewer – Colonel Dave Dixon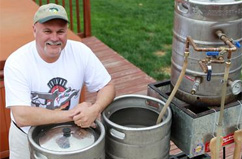 When did you start brewing?
December 1996 after I received a homebrew kit from my mom and dad for Christmas.
What got you into brewing?
I was on a flight back from Long Beach, CA. The person sitting next to me asked the flight attendant to chill an unlabeled bottle of beer. Half way through the flight, he asked for his bottle of beer and he asked if I wanted a taste. Once I tasted that, I asked him if he made it. We talked about homebrewing the rest of the flight and I decided I wanted to try my hand at this hobby.
When did you know this was no ordinary hobby, but rather an obsession?
My friends Brian, Bayne, and Kari would come over to brew with me quite often and I started to brew more and more (extract at that time). Then I won my first award at the Dixie Cup in 1998, taking third place with a Dry Stout (an extract brew). That is when I decided to build my all-grain system. Once I built that, I knew I was hooked.
What is your favorite local craft brewery?
When I lived in Texas, I loved Rahr and Saint Arnold breweries. Now living back in Kentucky, I enjoy Kentucky Ale in Lexington and Bluegrass Brewing Company in Louisville. I am looking forward to trying the beers from Country Boy Brewing, opening in Lexington soon. For good craft beer nationally, I am a big Dogfish Head fan.
Do you have a homebrewing disaster you'd like to share?
The Sunday after the 1999 Dixie Cup competition in Houston, Texas I was so excited after about how I had done I wanted to brew that day. I was heating up some water in my mash tun as was going to dump it out. I had about 6 gallons for very hot water in there and just took it off the flame. When I went to move it, the keg slipped out of my hand and was heading right for my foot. I took my left hand and stopped it from spilling on me but I put my hand directly on the bottom of the keg, bringing my brew day to a very abrupt stop. My daughter took me to the hospital where they said I had second and some third degree burns. Since then, a friend of my dad's has sent me some welding gloves that I use whenever I move hot kegs around.
What is your favorite style(s) to brew?
Any Belgian Strong Ales, English Southern Browns, and Robust Porters. I also really enjoy making very hoppy beers (IPA, APA, and English Bitters).
What style(s) will you never brew?
As a general rule, I mainly brew ales… I have also brewed a few lagers but have never made a Belgian Sour.  But I have plans to try that style soon.
Have you ever had a homebrew mistake that turned out great?
In 1999, I was brewing an all-grain California Common brew. During the mash-out my friend and I were bottling beer and the temperature of the mash spiked over 180°F. I thought at that time the brew was ruined…. So I recirculated the wort until it dropped below 169°F. I was ready to dump the batch but my friend Brian talked me into going ahead with the rest of the process and finish the beer. I am glad he talked me into doing that, as this was the beer I won my first NHC gold with back in 1999.
What is your favorite recipe based off of a commercial style?
Chimay Red knock-off. I love Belgian Dubbel beers and I have made this beer several times and have had great success with it. If I was going to be deserted on an island for the rest of my life and can only have one beer to drink it would be a Belgian Dubbel.
Are you a BJCP Judge?
No, I am not a BJCP Judge. I have been judging since 1998. I am classified though experience but not certified. One of these days I will take the BJCP test. I have to make the time to do it.
Do you have a good beer judging story you'd like to share with the rest of the homebrewing world?
My greatest judging session was at the Sunshine Challenge the year Greg Noonan was the guest speaker. I had the privilege to judge Scottish Ales with Greg.
Describe your brew system.
My two tier system allows me to make up to 10 gallons at a time. My "BIG D" system had gone through a couple of revisions over the years. I am currently on revision three and looking forward to revision four. My wife and I have the ability to have 18 beers on tap and have seven refrigerators outside our kitchen.
How frequently do you brew (times per month or year)?
On the average, I brew at least one to two times a month. During the spring and fall seasons I may brew as many as three times a month.
What is your dream beer and food pairing?
This is a good question. I like a very good Belgian Dubbel paired with a VERY good Steak. I like the way the Belgian Dubbel richness complements a medium rare rib-eye.  Mmmmmm…
Do you belong to a homebrew club?
Yes, I belong to Northern Kentucky Homebrewers Guild. It is very important to belong to a club. Over the years I have learned so much from fellow members. This is very important when you are developing your style of brewing. After brewing for over 15 years, I still learn a lot from other club members. I also enjoy helping and providing guidance to new brewers to develop their own style.
Is there any advice you would like to give to new homebrewers?
Brew more beer!!! And make sure you take your time and follow good sanitation practices. Also, join a homebrew club and brew with others. There are great brewers out there what love to share their knowledge. Then you can develop your own style as a brewer. One thing to remember do not be afraid to think outside the box.
Brew Hard!
Dave's Dreaded